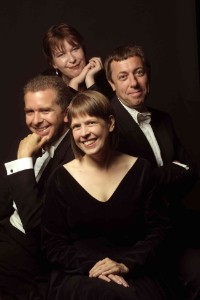 The Locke Consort
John Wilson Meyer - baroque violin
Mimi Mitchell - baroque violin
Susanne Braumann - viola da gamba

Fred Jacobs - theorbo
The Locke Consort is one of today's most exciting baroque ensembles. Celebrating their twenty-five year jubileum this season, The Locke Consort is internationally acknowledged for the depth and maturity of their interpretations of seventeenth century music. The ensemble has been the recipient of numerous important awards, including two prizes in the Internationa1 Competition for Early Music Ensembles (the Netherlands), first prize in the Early Music Network Competition (London) and first prize in the Erwin Bodky Competition (USA).
Praised for their performances and recordings, the ensemble has won critical acclaim both at home and abroad. The Locke Consort has performed in important series and festivals throughout Europe and the United States and has been recorded by major television and radio networks including the BBC, Radio France, Dutch NOS and the National Public Radio (USA).
The four members of The Locke Consort come from England, the Netherlands, Germany and the United States and are based in Amsterdam. The group takes its name from the composer Matthew Locke (1661/2-1677) and is modelled on the ensemble that Locke directed at the court of Charles II.
Especially renowned for their interpretations of seventeenth century English music, The Locke Consort was chosen to take part in the William and Mary tricentennial celebration, performing in the Netherlands, England and the United States. For the Purcell celebrations in 1995 and 2009, The Locke Consort was again recognised as one of the leading specialists in English baroque music and performed as part of the Purcell festivities around the world.
Their compact disc, 'Seven Suites by Matthew Locke', created an international critical sensation and was nominated for the prestigious Baroque Chamber Music Award by Gramophone Magazine. The Locke Consort has also recorded works by Henry Purcell and his contemporaries. With their recording of unpublished works by John Jenkins, they worked in collaboration with the Jenkins' scholar Andrew Ashbee and the publishers of the Musica Britannica series.
In addition to their reputation in the field of early music, The Locke Consort is also actively involved with contemporary music. They have premiered works by the American composer Ron Ford and the Dutch composer Bart Visman. The Locke Consort's collaboration with the Dutch modern dance group Leine & Roebana in 2008 resulted in an exciting production that was performed throughout Europe. The Locke Consort has also worked together with Peter Greenaway on music for his filmThe Baby of Macon.
Latest CD

Matthew Locke

The Broken Consort

Suites from Tripla concordia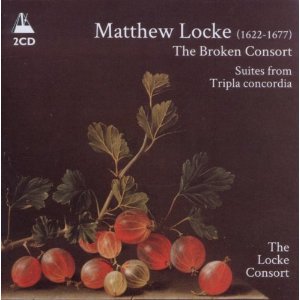 order on: amazon.co.uk, bol.com, amazon.de